Cloud computing's real-world environmental impact
Cloud computing may sound wispy, but its environmental effects are very real.
The digital realm is having an increasingly negative impact on sustainability, as society's ever-growing demand for compute power requires more energy, consumes more natural resources and produces more greenhouse gas emissions. As a result, the environmental impact of cloud computing is drawing greater scrutiny that requires business and IT leaders to take action.
The digital sector's proportion of global emissions is between 3% and 4% annually, according to The Shift Project, a French nonprofit advocating for a shift to a post-carbon economy. That share could double by 2025.
Data centers are one major driver of those emissions.
The cloud relies on vast data centers and data transmission networks. These are responsible for nearly 1% of energy-related global greenhouse gas emissions annually and accounted for approximately 300 metric tons of carbon dioxide equivalent in 2020, according to the International Energy Association.
Pressure is growing for cloud providers to become more sustainable as environmental, social and governance issues become more important among consumers, investors, corporate leaders and regulators.
"Cloud providers care about sustainability because their key stakeholders care," said Ed Anderson, distinguished vice president analyst with research firm Gartner.
Still, questions remain on whether cloud providers can really lower their environmental impact — and whether they can do so by any significant amount.
That's because skyrocketing demand for cloud services is expected to drive an expansion of cloud computing facilities while at the same time the ability to measure, report and receive third-party validation on sustainability efforts remains a nascent discipline.
Cloud computing defined
Cloud computing refers to on-demand compute resources such as processing and storage that are accessed via the internet. The term itself came into use in the mid-aughts, after Amazon in 2006 launched Amazon Web Services (AWS) with its Elastic Compute Cloud service.
Other companies, notably Google and Microsoft, followed with their own cloud computing offerings.
Today, those three along with IBM and Oracle comprise the top five hyperscalers, with each having the capacity to offer large-scale computing capabilities. Smaller providers also offer cloud services.
As providers grew their capabilities, software makers took advantage of the cloud and shifted from selling software that organizations would run on premises in their own data centers to selling SaaS instead. Now many SaaS offerings run in the hyperscaler clouds, too.
Meanwhile, enterprise organizations that once had owned and managed their own servers on premises started moving their compute operations to the cloud and shutting down their own data centers in the process.
Although many organizations still have some software running on premises, they are consuming more cloud services year over year: Gartner has predicted that worldwide end-user spending on public cloud services will grow 20.7% to total $591.8 billion in 2023, up from $490.3 billion in 2022.
Cloud providers will need to dramatically increase compute capacity to handle the computing requirements of emerging technologies such as AI, blockchain-based services, streaming services and the immersive web.
That, in turn, could mean even more environmental impact from cloud computing.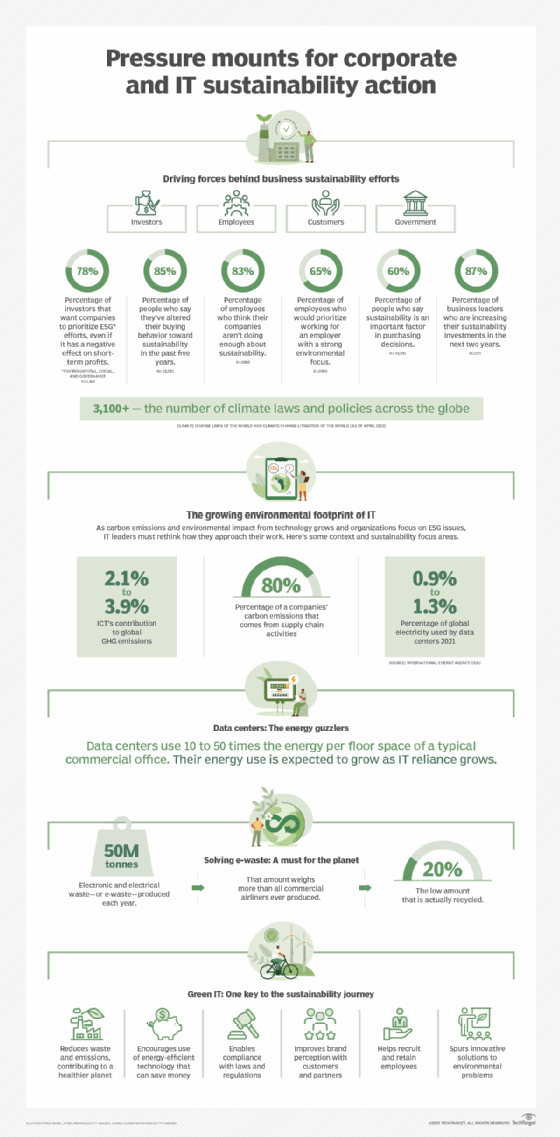 The environmental impact of cloud computing
Although "the cloud" sounds ethereal, it runs on rare metals, hardware, cables, fans, servers, storage arrays, routers, switches, computers, smartphones, rare metals and much more. With compute resources increasingly provided by cloud companies, the environmental impact of computing has become much more visible.
Cloud computing requires massive amounts of energy, and energy production itself has an environmental footprint.
Cloud computing and data centers have become a major carbon emissions driver, responsible for about 1.8% of U.S. electricity consumption and tech companies' plurality of emissions, according to the World Economic Forum.
Cloud computing facilities and data centers need electricity not only to power hardware but also to power building operations, most notably the air conditioning required to keep the machines cool, said Ian Grobel, managing director of technology consulting for cloud computing at professional services firm EY.
Cloud computing also requires large amounts of water for that cooling, Grobel said.
Google, for example, released its water usage figures in late 2022, and in 2021, the average Google data center consumed approximately 450,000 gallons of water per day, according to the company.
And researchers have warned that AI services such as ChatGPT will drive up those water usage figures.
For example, just 20 to 50 queries requires 17 ounces of fresh water, according to calculations from University of California, Riverside.
Furthermore, cloud computing operations produce high amounts of heat, Grobel said. More operators are looking to recycle the heat by diverting it to areas that need it, such as greenhouse operations, but so far few take that option.
Cloud computing facilities also require large tracts of land, which is another impact on the environment.
Cloud providers frequently build their facilities in geographies that may help minimize the environmental impact in one way but could exacerbate other impacts, Grobel said.
Providers may build data centers in desert-like areas so they can add solar arrays to power their facilities or locate them in chillier climates to lower cooling requirements, Grobel said. But those decisions may mean more intensive needs elsewhere, such as further stressing water supplies in the desert locales or building in greenfield sites in cool climates.
"So there's a tradeoff there," he said.
Noise pollution coming from large-scale data centers has emerged as an environmental issue, too.
More and more, people in the communities where data centers are located or are proposed are protesting the noise the data center cooling fans produce.
Electronic waste is another environmental issue that cloud computing contributes to.
The world produced 59.4 million metric tons of e-waste in 2022 and is expected to produce more and more annually, hitting 74.7 million metric tons of e-waste in 2030, according to research from Statista, a German-based provider of market and consumer data.
Indeed, e-waste is the fastest-growing waste stream, and only a small portion is recycled, according to Waste Management World.
Environmental effects of on-premises vs. cloud
As people rely more heavily on digital services, the environmental cost of cloud computing requires urgent attention. But in terms of the cloud vs. on-premises debate, few industry watchers would say companies should stay on premises.
"Cloud can do compute and storage in a more efficient way [than on-premise technology], but at the same time it engenders more computing overall," Anderson said. "So when we talk about its environmental impact, we also have to think about its expansion and its ability to support expanded technology use overall."
Smaller, distributed data centers and on-premises enterprise facilities are likely to have a greater effect on the environment.
Moving away from on-premises computing to cloud computing may prevent the emission of more than 1 billion metric tons of carbon dioxide from 2021 through 2024, in part due to the greater efficiency of aggregated computing resources, according to research firm IDC.
In the same way people living in co-housing buildings — such as apartments and condos — can share services and be more energy- and resource-efficient as compared to one couple in a big house, shared data centers can optimize in ways most on-premises data centers cannot.
"In most cases, workloads would be more environmentally friendly in the cloud," said Matt Buchner, senior director of cloud solution architecture at NTT Data, an IT service management company.
Due to a cloud provider's size and business model, it has the expertise and incentive to build optimized operations, Buchner said. For example, cloud providers can create computing resources that power off when not in use and design their facilities to run as efficiently as possible, thereby saving resources.
Additionally, many cloud providers publicly have pledged to take actions to reduce their environmental impact.
For example, AWS in late 2022 announced its plans to become water positive — that is, returning more water to communities than it uses — by 2030. AWS also has said that it expects to reach 100% renewable energy across its operations by 2025 — five years ahead of its original 2030 target. And it has committed to reaching net-zero carbon by 2040.
Meanwhile, Google has said it is already carbon neutral for its operations and is aiming to run on carbon-free energy, 24/7, at all of its data centers by 2030 as part of its larger sustainability plans.
Microsoft, IBM and Oracle have similar sustainability objectives.
Those sustainability efforts may become differentiating points as cloud providers compete for clients, as more organizations are starting to pay attention to such factors, according to Gartner. To that point, hyperscalers' carbon footprint will be a top-three criterion in cloud purchase decisions, the firm said in a Jan. 24, 2022 press release.
However, skeptics aren't convinced that cloud customers can move the dial much on cloud computing's environmental impact.
For example, in February 2022, MIT released research detailing the staggering effects of cloud computing.
In addition, scrutiny is growing on whether companies — including cloud providers — are actually meeting their sustainability claims.
Google, Amazon and Apple were among those overstating their sustainability progress, according to a 2022 study from sustainability nonprofit New Climate.
Greenwashing is likely happening, but may not be intentional, Anderson said.
As more business and IT leaders attempt to base their decisions on sustainable procurement and vendor choices, they will need to assess green claims more closely.
link